Okay so Here is the recipe of Adraki Paneer. Adrak (Ginger) is a wonderful ingredient, it just adds a great flour to the food if you know how to use it.
And in this recipe, we used Ginger in a Paneer dish, and the result is simply mouthwatering.
Paneer ( Indian Cottage Cheese) is a pretty commonly used in various dishes in not just India but in neighboring countries as well. There are many popular curries that make the use of Paneer as a key ingredient.
It is also a favorite of many vegetarians, which is quite a big number in India. So, it is one of the recipes we are sharing today that contains Paneer as key ingredients, you can find more recipes on the website.
But for now, follow the steps below to prepare this delicious treat for your friends and family.
Perpetration Time: 45 Minutes
Serves: 4
Difficulty: Medium
Features: Thick Gravy, Little Spicy
Cuisine: Indian
Ingredients
2 onion
2 Tomato
5 Garlic
2 inch (1 inch for juice and 1 inch for paste) Ginger
4 Cashew nuts
200 gram Paneer
3 Green chili
2 tbsp Coriander leaves
1/2 Lemon
2 tbsp Vegetable oil
1 teaspoon Cumin seeds
1/2 teaspoon Red chili flakes
1/2 teaspoon Coriander powder
1/4 teaspoon Asafoetida (hing)
1/4 teaspoon Garam masala powder
1/2 teaspoon Fenugreek leaves , crushed
Steps
Keep all the ingredients ready for the curry. In a wok/pan add water, tomato, and diced onion. Let it boil for 4-5 minutes. Strain it using a strainer and cool it at the room temperature.

In a grinder, add boiled onion, garlic, cashew nuts and 1/2 inch ginger. Grind it to make a fine paste.

In a pan/wok/kadai, add oil and temper with cumin seeds, asafoetida, red chili flakes, green chili and coriander powder. When the cumin seeds start crackling add ground paste.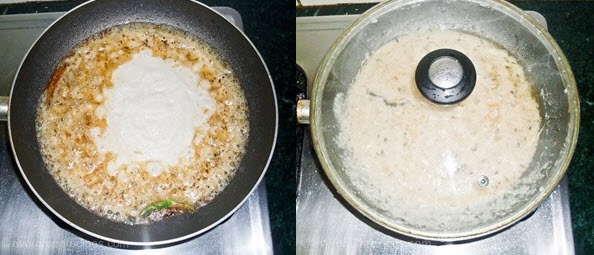 Mix it well, cook covered on a medium flame for 3-4 minutes. Keep stirring in between the process to avoid sticking to the pan.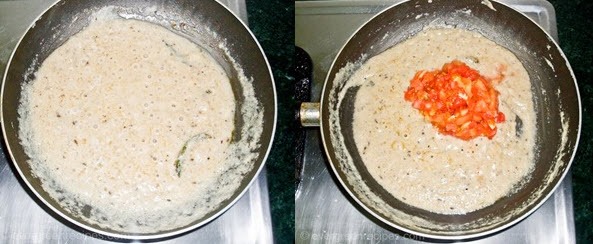 Open and add chopped tomato.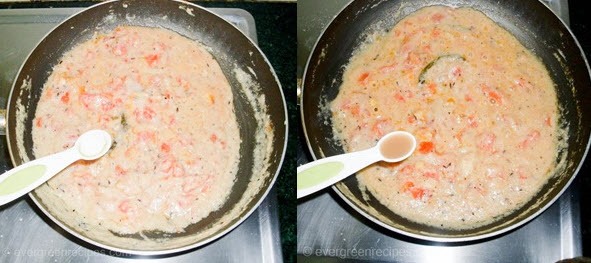 Add salt and ginger juice. Cook it on a medium flame for another 3-4 minutes till the tomato is mushy and shows oil separately.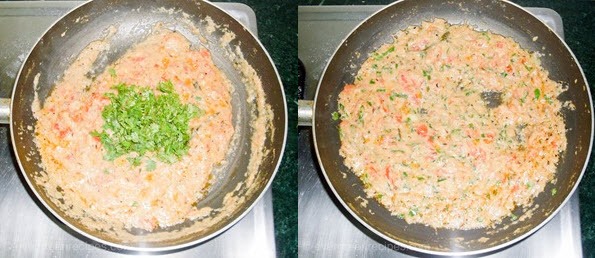 Add coriander leaves and mix it well.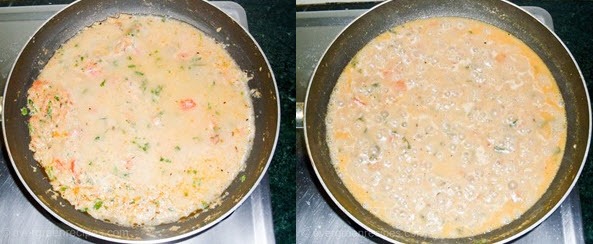 Add 1/4 cup water, mix it well and cook for another 2 minutes.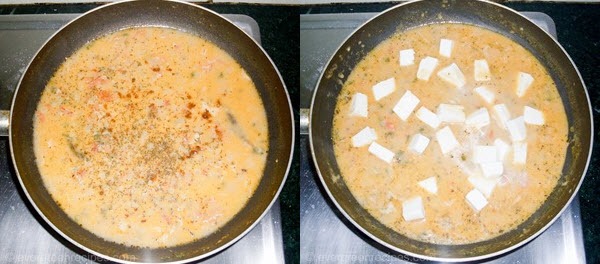 Add crushed fenugreek leaves and garam masala powder, mix and add paneer cubes. Cook covered on a medium flame for 1 minutes. Switch off the flame.
Add coriander leaves and lemon juice. Delicious ginger flavoured paneer is ready to serve, Serve hot with puris or chapattis.